ARTE CONCERT SPECIAL WITH PATTERNS AND UNITED WE STREAM W/ Shanti Celeste, Peach, IMOGEN & Charles Green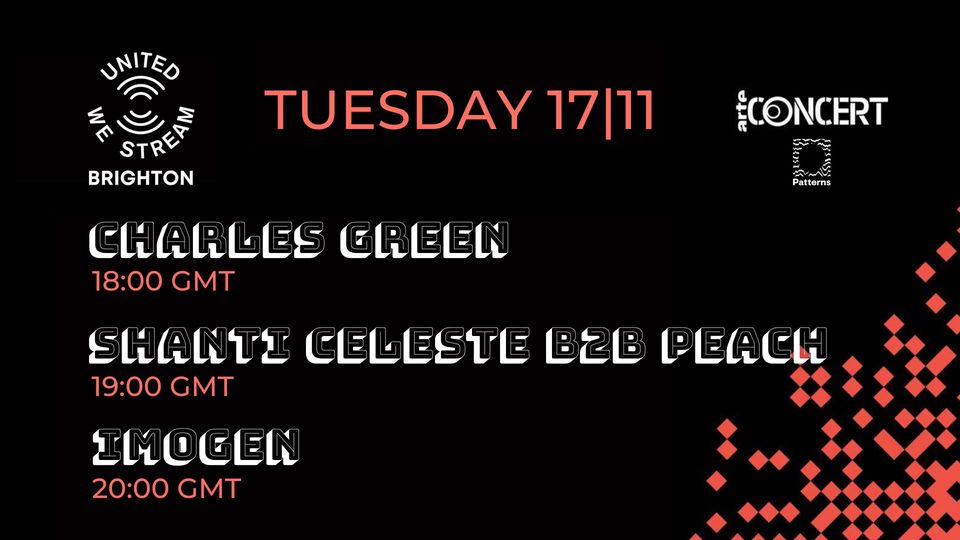 United We Stream are excited to be teaming up with renowned Brighton venue Patterns for a special livestream on Tuesday 17th November which will be broadcast on ARTE, the European culture channel, giving overseas audiences a flavour of Brighton's nightlife.
With a line up curated by Patterns, the 3 hour special will feature longtime Patterns resident Charles Green who will kick things off at 6pm GMT. Charles is one of the most experienced selectors in Brighton and also heads up one of the city's most forward-thinking parties, 'First Floor' bringing some of the worlds leading underground artists to Brighton. He's a cornerstone of Brighton's club scene, though his influence extends well beyond the city limits, in the form of a residency at Paris's renowned Exil events.
Next up will be Shanti Celeste B2B Peach. Shanti Celeste's career to date has been characterised by a contemporary, UK take on the classic Motor City sound. Her approach to production has leant her DJing a breath that has earned her a distinct enthusiasm amongst today's electronic music base and as well as running her won label Peach Discs, she has a regular radio show on NTS. Joining Shanti is Toronto's Peach, who is now based in London, and also hosts a show on NTS radio. Her sets are creative, coherently traversing several genres and she deftly constructs elevating narratives with energy, dynamism and passion. This is going to be a B2B set worth waiting for!
Wrapping things up is IMOGEN, who has enjoyed a whirlwind rise on the European techno scene and her reputation as one of the most talented newcomers is being well recognised. The DJ/producer wields a sound that's impossible to box off into one category and in 2019 she became a resident for fabric and moved her monthly radio show to NTS and in 2020 she continues to build a sonic identity focused on bass-heavy UK techno.
Standing strong on Brighton's infamous Marine Parade, Patterns has become the go-to destination to experience forward-thinking music in Brighton. The basement club acts as a safe space for club culture, welcoming hundreds of people through the doors week in, week out. Patterns also hosts plenty of live music, with regular jazz, indie and pop acts. Converted from an art deco hotel, 10 Marine Parade is an iconic building with a long and impressive musical history, previously Ted Potters Music Bar and the infamous Escape Club.
The basement rave cave is designed purely for dancing; sonic enhancements come from an L'Acoustics sound system – a key component for live acts and DJs alike. Fridays at the venue are led by Foundations, formed in 2017 the brand works with the cities best promoters to explore the sounds of drum & bass, grime, dubstep, UKG, bassline and everything in between. Saturdays cater for house, techno, electro, disco and all manner of other genres, reserved for the venue's, 'Patterns with', 'Patterns invites' and quarterly residency series amongst many other event concepts.
Schedule: Tuesday 17th November @ 6PM GMT.
6pm – Charles Green
7pm – Shanti Celeste B2B Peach
8pm – IMOGEN 
Please donate to help our decimated local hospitality industry, which we all know is the beating heart of our city and needs to still be here when we finally return next year. Please donate what you can to raise money for Brighton's nightlife, cultural organisations, charities and the fight against homelessness https://www.crowdfunder.co.uk/united-we-stream-brighton
With over 1 million views UWS Brighton continues to showcase Brighton's talent to the world and reminding us of all the venues that are closed and we are missing during this time. A movement that started in Berlin during lockdown that has spread to over 83 cities around the world, United We Stream Brighton continues to showcase the music, culture and free-thinking rainbow infused spirit to viewers at home, whilst raising money to support the city's nightlife, cultural organisations and charities.
The idea is for locals as well as people around the world to enjoy and experience Brighton's music, art and culture through the website and social platforms. United We Stream Brighton is free, but with donations welcome, and all proceeds will go to support night-time economy businesses and cultural organisations across Brighton & Hove as well as contributing to the fight against homelessness and the vital work undertaken by the Grassroots charity and Audio Active.
Watch the live stream and find out more here:
Website: https://brighton.unitedwestream.org
Facebook: https://www.facebook.com/UnitedWeStreamBrighton
Instagram: https://www.instagram.com/unitedwestreambrighton
Youtube: https://www.youtube.com/watch?v=FoE25NcYTmM
Contact:
Nikki McNeill | Global Publicity
nikki@globalpublicity.co.uk