VOODOO DISCO TO STREAM SUMMER GARDEN PARTY AT BLOCK WITH UNITED WE STREAM BRIGHTON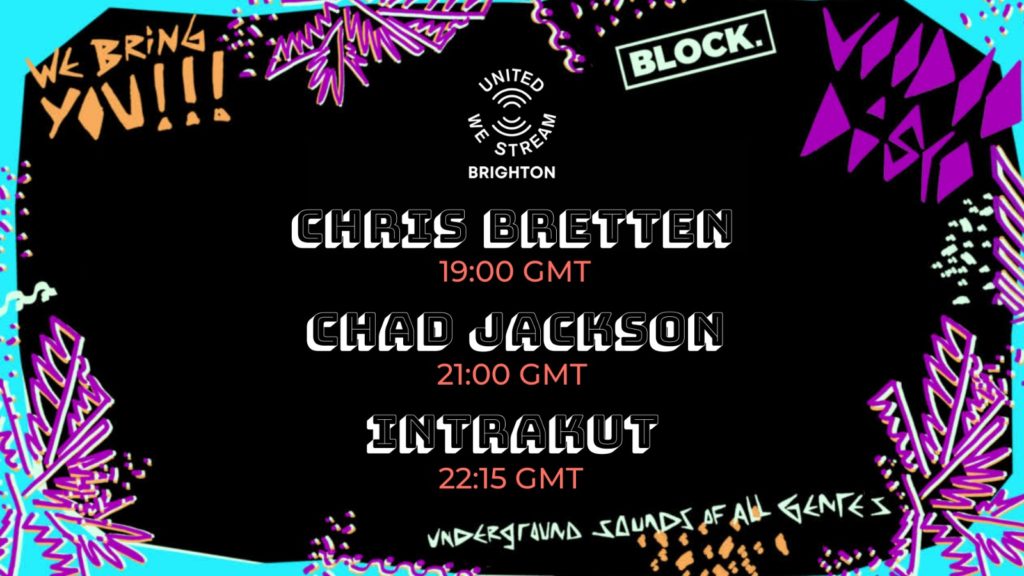 Coming up this weekend is the online stream of the Voodoo Disco Summer Garden Party recorded on August Bank Holiday weekend from Block Brighton with DJs Chad Jackson, Official Madchester DJ Chris Bretten and resident DJ Intrakut.
After formative days in the early 90's to the present spent in and around the cities Music scene, being influenced by venues such as Audio, the Zap Club, Concorde 2, Patterns and events such as Big Beat Boutique, Voodoo Disco was set up and launched in Brighton in 2018 .
We are now over 2 years old and have had everyone from Rui Da Silva , Chad Jackson to Tilt the British group of electronic record producers, composed of Mick Park and Nic Britton play have been involved in parties for bands such as U2, Kasabian and the Happy Mondays, not to mention the cream of underground and local DJ talents from across the UK.
Chad Jackson has been a DJ, music producer and educator since the mid-1980s, having bagged the crown of Technics/DMC World DJ Mixing Champion in 1987. Resident DJ at the now legendary The Hacienda club in Manchester – to a worldwide smash hit in 1990 with 'Hear The Drummer Get Wicked', he has gained worldwide industry respect and recognition and was recently honoured with a DJ Legend award by DMC.
Growing up in the Indie, Acid House, Electro, Breakdancing and Madchester Hacienda era of the late 80s and early 90s, Chris Bretten recently supported The Stone Roses DJing at the Official Stone Roses Madchester Wembley, Manchester and Leeds after-parties as part of The Stone Roses World Tour.
In addition also playing is Voodoo resident Intrakut, please show your support for the Brighton Music Scene and watch them drop an eclectic mix of Indie, House, Hacienda Acid House, Disco, Funk, Techno D&B, Hip Hop, Northern Soul & Motown on vinyl & digitally Sat 27th April at Block Brighton streamed on United We Stream Brighton https://brighton.unitedwestream.org/
About Voodoo Disco:
Voodoo Disco is an all-night eclectic /house party music event that takes place in Brighton and venues all over the UK and Europe with the ethos that "it's all about the music".
Contact:
Nikki McNeill | Global Publicity
nikki@globalpublicity.co.uk