WEEK 10: UNITED WE STREAM ASIA LIVE FROM VENT IN JAPAN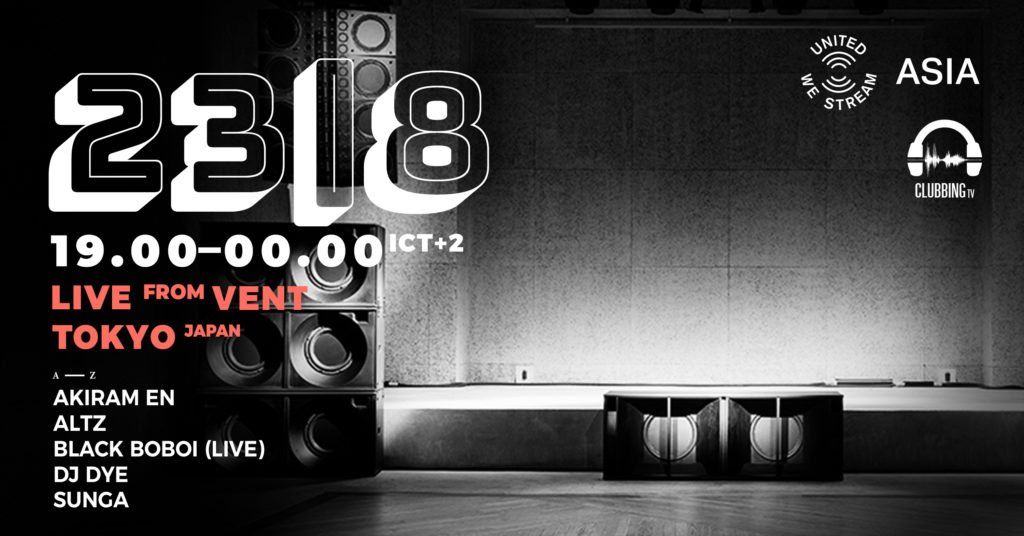 We're going to take a little break this weekend as our team of volunteers have been working flat out and need a well-deserved rest. So this weekend we will have some guest streams from other UWS cities coming up and we'll be back with some more streams featuring your best-loved Brighton venues and artists, plus another exciting Skint Records takeover. So watch this space! Thanks for all your support! We can't do it without you!
This week 'United We Stream Asia' launched, with VENT representing Japan as the curator of this program, featuring AKIRAM EN, DJ DYE, BLACK BOBOI, ALTZ and SUNGA, which will be a great opportunity to showcase the power of the Japanese underground to the world. The curation of this event was selected based on the concept of "bringing the best of Japanese underground to the world" who didn't get enough recognition worldwide yet. In addition, the video direction is of true "VENT quality", a simple but powerfully unique effect that highlights the artists' performances. vent tokyo is one of tokyos key clubs for electronic music.

Week 10 Schedule:

Sunday 23rd August
19.00 – 00.00 ICT+2 >Line Up<
Akiram En
Altz
Black Boboi (Live)
DJ Dye
Sunga

A movement that started in Berlin during lockdown that has spread to 83 cities around the world, United We Stream Brighton continues to showcase the music, culture and free-thinking rainbow infused spirit to viewers at home, whilst raising money to support the city's nightlife, cultural organisations and charities.
The idea is for locals as well as people around the world to enjoy and experience Brighton's music, art and culture through the website and social platforms. United We Stream Brighton is free, but with donations welcome, and all proceeds will go to support night-time economy businesses and cultural organisations across Brighton & Hove as well as contributing to the fight against homelessness and the vital work undertaken by the Grassroots charity and Audio Active.
Please donate what you can to raise money for Brighton's nightlife, cultural organisations, charities and the fight against homelessness. https://www.justgiving.com/fundraising/brightonunitedwestream

Watch the live stream and find out more here:
Website: https://brighton.unitedwestream.org
Facebook: https://www.facebook.com/UnitedWeStreamBrighton
Instagram: https://www.instagram.com/unitedwestreambrighton
Youtube: https://www.youtube.com/watch?v=FoE25NcYTmM
Contact:
Nikki McNeill | Global Publicity
nikki@globalpublicity.co.uk