WEEK 16: SKINT RECORDS TAKEOVER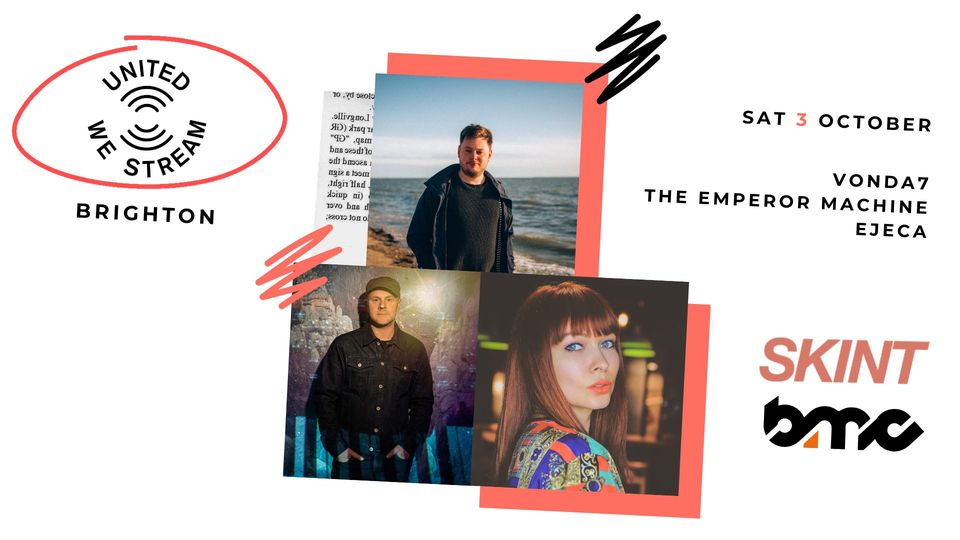 Skint Records return for another United We Stream event showcasing a wealth of talent from across the roster with exclusive streams from the Emperor Machine, VONDA7 and Ejeca
The label open up with the Polish born, Berlin based VONDA7 who's influences run the gamut of electronic music and have seen her operate with industry heavy hitters such as Dense & Pika and Sasha before launching her own label in 2018. This exclusive set was recorded in her Polish hometown of Poznan in well-renowned club Tama. Production courtesy of Plug.In.
Next up is legendary musician, DJ, producer, engineer and recording artist Andy Meecham under his Emperor Machine guise, with a set filmed from the elusive Vertical Lab in deepest Yorkshire. With 20+ years of experience under his belt in seminal groups such as Bizarre Inc. and Chicken Lips, the pioneer of acid house has built a very special exclusive Live show with more synths than any one man should be able to handle.
The line-up is completed with one of Northern Ireland's best musical exports Ejeca. He's prolific and consistent, garnering him support from across the spectrum of dance music which finally brought him to Skint earlier this year with his debut for the label. Ejeca performs a spellbinding set from the backdrop of Devil's Dyke, a stunning National Trust site just five miles north of Brighton. When John Constable described the panorama from Devil's Dyke as 'the grandest view in the world', he wasn't wrong, but there is so much more to discover here than just a beautiful view.
United We Stream Brighton continues its mission to showcase some of the city's best local artists and venues to help raise money for local charities and to keep the city's nightlife alive.
Week 12 Schedule

Saturday 12th September
7-8pm: VONDA7
8-9pm: The Emperor Machine
9-10pm: Ejeca
With over 1 million views UWS Brighton continues to showcase Brighton's talent to the world and reminding us of all the venues that are closed and we are missing during this time. The music will continue over the coming weeks including more bands, so keep an eye out on the website social media pages for the upcoming line ups.
A movement that started in Berlin during lockdown that has spread to over 83 cities around the world, United We Stream Brighton continues to showcase the music, culture and free-thinking rainbow infused spirit to viewers at home, whilst raising money to support the city's nightlife, cultural organisations and charities.
The idea is for locals as well as people around the world to enjoy and experience Brighton's music, art and culture through the website and social platforms. United We Stream Brighton is free, but with donations welcome, and all proceeds will go to support night-time economy businesses and cultural organisations across Brighton & Hove as well as contributing to the fight against homelessness and the vital work undertaken by the Grassroots charity and Audio Active.
Please donate what you can to raise money for Brighton's nightlife, cultural organisations, charities and the fight against homelessness. https://www.crowdfunder.co.uk/united-we-stream-brighton
Watch the live stream and find out more here:
Website: https://brighton.unitedwestream.org
Facebook: https://www.facebook.com/UnitedWeStreamBrighton
Instagram: https://www.instagram.com/unitedwestreambrighton
Youtube: https://www.youtube.com/watch?v=FoE25NcYTmM
Contact:
Nikki McNeill | Global Publicity
nikki@globalpublicity.co.uk