Week 21: OHSO BEACH SPECIAL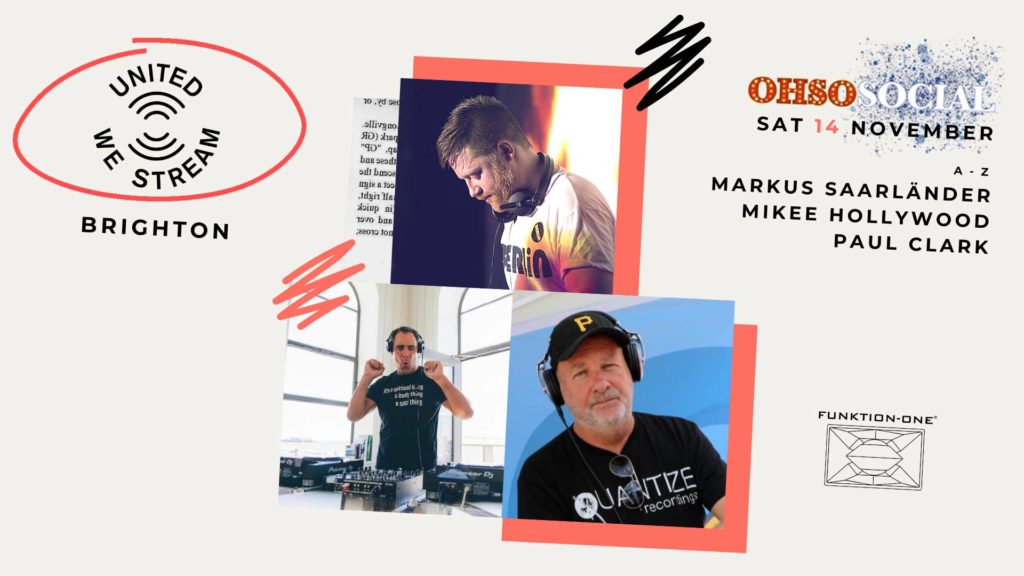 UWS Brighton is back with an OHSO special, with some much-needed beach vibes recorded last month before lockdown. 
After a few weeks showing solidarity to the UWS global teams and crossposting partner cities content, we are now bringing it back to Brighton, to showcase some of the city's best local artists and venues to help raise money for local charities and to keep the city's nightlife alive.

This Saturday we welcome Mi House DJ Paul Clark, head honcho Markus Saarländer from Berlin-Brighton, plus local sweetheart & mayor Mikee Hollywood.
Bringing some much-needed beach vibes to remind us of what we're missing during lockdown, the sets were recorded at Mikee's Ohso Social residency hot spot right on the Brighton beachfront!
All sets were filmed quietly and COVID safe, prior to lockdown and are now finally being aired primetime this Saturday evening for your viewing and listening pleasure from 7-10pm!

Please donate to help our decimated local hospitality industry, which we all know is the beating heart of this City and needs to still be here when we finally return next year. Please donate what you can to raise money for Brighton's nightlife, cultural organisations, charities and the fight against homelessness https://www.crowdfunder.co.uk/united-we-stream-brighton
Week 21 Schedule:
Saturday 14th November
7pm: Markus Saarländer. Ohso
8pm: Mikee Hollywood, Ohso
9pm: Paul Clark, Mi House, Ohso
With over 1 million views UWS Brighton continues to showcase Brighton's talent to the world and reminding us of all the venues that are closed and we are missing during this time.
A movement that started in Berlin during lockdown that has spread to over 83 cities around the world, United We Stream Brighton continues to showcase the music, culture and free-thinking rainbow infused spirit to viewers at home, whilst raising money to support the city's nightlife, cultural organisations and charities.
The idea is for locals as well as people around the world to enjoy and experience Brighton's music, art and culture through the website and social platforms. United We Stream Brighton is free, but with donations welcome, and all proceeds will go to support night-time economy businesses and cultural organisations across Brighton & Hove as well as contributing to the fight against homelessness and the vital work undertaken by the Grassroots charity and Audio Active.
Watch the live stream and find out more here:
Website: https://brighton.unitedwestream.org
Facebook: https://www.facebook.com/UnitedWeStreamBrighton
Instagram: https://www.instagram.com/unitedwestreambrighton
Youtube: https://www.youtube.com/watch?v=FoE25NcYTmM
Contact:
Nikki McNeill | Global Publicity
nikki@globalpublicity.co.uk