WEEK 9: SHOWCASING MORE BANDS, DJ'S AND LOCAL TALENT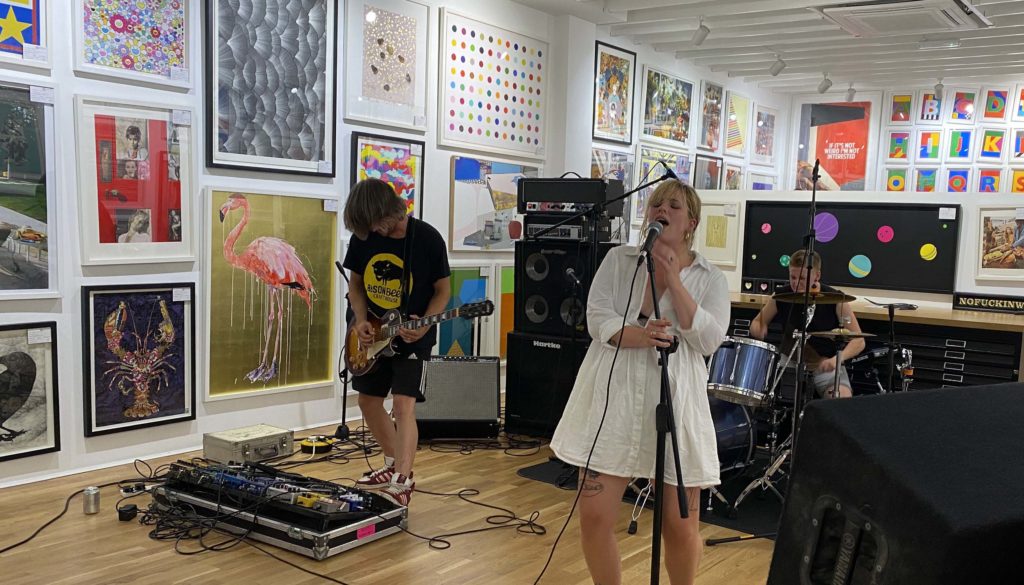 United We Stream Brighton continues to showcase some of the city's best local artists and venues to help raise money for local charities and to keep the city's nightlife alive.
At the heatwave continues Week 9 kicks off with more bands on Friday with Enter Art Gallery hosting CLT DRP with their unique blend of EDM inspired electro-punk and quasi-satirical female pop and SKiNNY MiLK whose sound has been likened to as Thee Oh Sees, Wand and King Gizzard and the Lizard Wizard, creating cathartic tunes that effortlessly reach the volume of much larger guitar bands. Next up we have another amazing band performing at Komedia presented by BIMM. Gnarlah are a three-piece dark modern rock powerhouse combining explosive rock energy with the powerful and dark sounds of scene giants such as Muse and System of a Down.

On Saturday we bring you tunes to get you dancing at home with Pablo Contraband playing a mix of House, Techno, Funk, Soul and Disco to get things started at the renowned Rialto Theatre. Then it's over to New Unity with Nick Hook, a Brighton based DJ/producer who began his career back in the early days of the house music revolution. Nick has DJ'd all over the UK and abroad and released music on many top labels such as Distinctive, FFRR, Om & Whoop! With his first solo studio album Asylum Earth being released on Jeepers! Music this summer. Nick is also the founder of well-known Brighton club night Tech-Noir, which has been rocking venues all over Brighton for a decade. Wrapping things up on Saturday is one half of duo and Brighton label Black Octopus Nick Baxter with a set from Block in Brighton's Kemp Town.
On Sunday, The Loft Sessions presents a special look back at the local Brighton talent and venues we have showcased over the last 3 years.  Special guest appearances from Fatboy Slim, David Morales, James Bay and Sleaford Mods. Then we showcase some up and coming talent at Komedia with from singer songwriter Reema, whose new folk style songs capture what we're feeling now.   Touching, emotional and beautiful.
Week 9 Schedule:
Friday 14th August:
7pm: CLT Drop – Enter Art Gallery
8pm: Skinny Milk – Enter Art Gallery
9pm: Gnarlah – Komedia
Saturday 15th August:
7pm: Pablo Contraband – Rialto Theatre
8pm: Nick Hook – New Unity
9pm: Nick Baxter (Black Octopus) – Block
Sunday 16th August: 
8pm: The Loft Sessions – BIMM
9pm: Reema – Komedia

UWS Brighton continues to grow with over 930,000 views, showcasing Brighton's talent to the world and reminding us of all the venues that are closed and we are missing during this time.
The music will continue over the coming weeks including more bands, so keep an eye out on the website social media pages for the upcoming line ups. Acts to look forward to include; Mystery Jets,Penelope Isles, Flyte, Bess Atwell, Electric Soft Parade, The Wytches, Egyptian Blue, LIME, Otzeki, Speelburg, Nina Carina, Scott Diaz, Wax Works, VONDA7 and The Emperor Machine and many more!
A movement that started in Berlin during lockdown that has spread to over 74 cities around the world, United We Stream Brighton continues to showcase the music, culture and free-thinking rainbow infused spirit to viewers at home, whilst raising money to support the city's nightlife, cultural organisations and charities.
The idea is for locals as well as people around the world to enjoy and experience Brighton's music, art and culture through the website and social platforms. United We Stream Brighton is free, but with donations welcome, and all proceeds will go to support night-time economy businesses and cultural organisations across Brighton & Hove as well as contributing to the fight against homelessness and the vital work undertaken by the Grassroots charity and Audio Active.
Please donate what you can to raise money for Brighton's nightlife, cultural organisations, charities and the fight against homelessness. https://www.justgiving.com/fundraising/brightonunitedwestream

Watch the live stream and find out more here:
Website: https://brighton.unitedwestream.org
Facebook: https://www.facebook.com/UnitedWeStreamBrighton
Instagram: https://www.instagram.com/unitedwestreambrighton
Youtube: https://www.youtube.com/watch?v=FoE25NcYTmM
Contact:
Nikki McNeill | Global Publicity
nikki@globalpublicity.co.uk